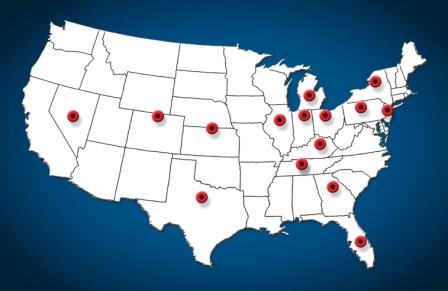 Doctors across America continue to choose the Hernia Center of Ohio as the preferred center for their own hernia surgery. This is due to four key factors:
Many centers are just now starting to offer non-mesh hernia repairs due to the multitude of complications associated with mesh. However, their entire hernia experience has been with mesh repairs. At the Hernia Center of Ohio, Dr. Grischkan has been specializing in the non-mesh Shouldice repair for over 35 years. Moreover, Dr. Grischkan personally performs every hernia repair with no trainees, technicians or medical students practicing on you. Experience counts which is why so many doctors from all over the country have sought us out.
The following is a patial list of doctors who have done their research and opted to have their hernias repaired at the Hernia Center of Ohio.
| | | |
| --- | --- | --- |
| Doctor's Initials | Specialty | State |
| LK | Orthopedic Surgeon | Ohio |
| EK | Anesthesiologist | Oklahoma |
| AT | Cardiologist | New York |
| DP | Vascular Surgeon | Florida |
| BW | Dermatologist | Nevada |
| BS | General Surgeon | Florida |
| AE | Cardiologist | Florida |
| JL | Cardiac Surgeon | Ohio |
| RA | Cardiac Surgeon | Ohio |
| DD | Dermatologist | Pennsylvania |
| AH | Radiology | Ohio |
| PG | Internist | Ohio |
| EO | Internist | North Carolina |
| PM | Family PracBce | Ohio |
| ME | Internist | Ohio |
| WM | Psychiatry | Ohio |
| GM | Gastroenterology | Michigan |
| JS | Internist | Michigan |
| TH | Internist | Ohio |
| GT | Internist | Pennsylvania |
| DD | Anesthesiologist | Ohio |
| DE | Family Medicine | Pennsylvania |
| MB | Internist | Michigan |
| MK | Orthopedic Surgeon | Ohio |
| MW | PlasBc Surgeon | Ohio |
| GT | Internist | Michigan |
| JS | Anesthesiologist | Ohio |
| AA | Internist | Kentucky |
| PA | General Surgeon | Illinois |
| JH | Anesthesiologist | Ohio |
| DK | Gastroenterologist | West Virginia |
| RV | Internist | Michigan |
| DK | Pathologist | Ohio |
| FH | Dermatology | Ohio |
| CS | Oral Surgeon | Ohio |
| SA | Vascular Surgeon | Florida |
| JL | Cardiac Surgeon | Ohio |
| FP | Oncologist | Ohio |
| SM | Internist | Nevada |
| JR | Internist | Ohio |
| BS | General Surgeon | Florida |
| MW | Plastic Surgeon | Ohio |
| PS | Anesthesiologist | Kansas |
| WB | OB/GYN | Ohio |
| JL | Anesthesiologist | Georgia |
| BS | Nephrologist | Ohio |
| JS | Internist | Ohio |
| DD | Dermatologist | Pennsylvania |
| JM | Orthopedic Surgeon | Ohio |
| RA | Cardiac Surgeon | Ohio |
| KJ | Orthopedic Surgeon | Ohio |
| GT | Orthopedic Surgeon | Texas |
| PT | Gastroenterology | Ohio |
| AG | Pulmonary Medicine | Ohio |
| JV | Opthalmology | Ohio |
| RR | Family Medicine | Michigan |
| MZ | Cardiology | New York |
| MF | Orthodontics | Ohio |
| DO | Internist | Colorado |
| DD | Family Practice | Pennsylvania |
| FA | Ear Nose Throat | Ohio |
| IS | Gastroenterology | Florida |
| EW | Internist | Tennessee |
| SS | Gastroenterology | Kentucky |
| JD | Emergency Room | Ohio |
| GD | Orthodontics New | New Jersey |
| IL | Spine Surgeon | Florida |
| JG | Optometrist | Ohio |
| MG | Cardiology | Ohio |
| ML | OB/GYN | Kansas |
| RH | Family Medicine | Ohio |
| EP | Gastroenterology | Ohio |
| WM | Psychologist | Ohio |
| RM | Optometrist | Illinois |
| BZ | Vascular Surgeon | Ohio |
| LK | Orthopedic Surgeon | Ohio |
| DR | Internist | Tennessee |
| SF | Internist | Ohio |
| MH | Cardiology | Indiana |
| BO | Neurosurgeon | Ohio |
| JH | Internist | Ohio |
| WP | Cardiology | Ohio |
| JW | Opthalmology | Ohio |
| JB | Oral Surgeon | Michigan |
| EE | Opthalmology | Ohio |