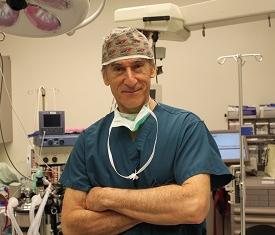 Dr. David Grischkan, a hernia doctor and the medical director of the Hernia Center of Ohio, is a native of Canada. He trained at McGill University in Montreal and acquired extensive training in the Shouldice hernia technique.
He was invited to the Cleveland Clinic in 1976 and left in 1979 to embark upon a teaching career and to help patients as a hernia doctor in his private surgical practice.
In 1984, he founded the Hernia Center of Ohio as a center of excellence for hernias, devoting full-time to this specialty. Using the Shouldice, Canadian repair he pioneered outpatient hernia surgery in this part of the country. Based upon an extensive experience, the Modified Shouldice Technique was developed for massive or failed hernias that were not candidates for the Shouldice Method and would have otherwise had to be subjected to far more invasive and riskier approaches.
Dr. Grischkan has been an invited lecturer in hernia surgery at numerous meetings throughout this country. In 1992, he co-chaired an international hernia symposium at the University of Leuvin in Belgium. The next year, he was a keynote speaker at two international meetings in Italy.
In 1997, Dr. David Grischkan was a principal investigator for a national research project to evaluate a new mesh for implantation in hernia surgery. This study was presented at an international meeting and the data published in 1999.
To date, Dr. David Grischkan has performed well over 20,000 hernia repairs utilizing the modified Shouldice technique. Many of these patients, referred from all over the country, were very difficult recurrences for which most surgeons were unwilling to perform the surgery.
Hernia Doctor:
Looking for a hernia doctor or information about hernias? The Hernia Center of Ohio, located in suburban Cleveland, Ohio, specializes in the repair of all types of hernias, including incisional hernias, hernia treatments and inguinal hernia repairs.