Dr. David Grischkan
Dr. David Grischkan, a hernia doctor and the medical director of the Hernia Center of Ohio, has performed over 23,000 hernia surgeries for bodybuilders, doctors, and others just like you.
People come from around the world because of his reputation for making sure patients enjoy rapid recoveries and his success with a non-mesh hernia repair technique. In fact, some turn to Dr. Grischkan because of chronic pain and complications they've endured from surgeries with mesh. Learn about patients and what they say.
Rapid Recovery – Yes, It's Possible
Get back to work, family life and recreation in just a few days. Learn how.
The Expertise You Deserve
A hernia expert with over 20,000 hernia repairs

NON-MESH repair (take the surgical tour)

A surgeon who will do your surgery — not a trainee or student

A surgeon who has lectured worldwide and published research

A surgeon who has operated on hundreds of doctors
Hernia Conditions
Patient Video – Thanking for Treatment
We appreciate the following video from the family of David, a courageous young hernia repair patient.
HERNIA SPECIALIST WITH A REPUTATION FOR SUCCESS WITHOUT MESH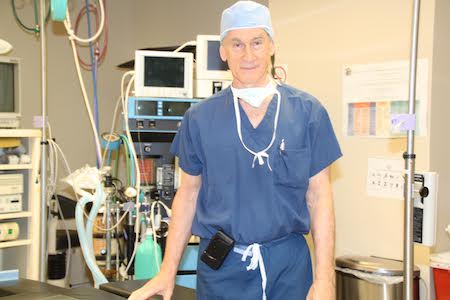 If you have an inguinal hernia, recurrent inguinal hernia, femoral hernia, incisional hernia, sports hernia, suffer from mesh complications or have chronic pain following a hernia repair, you need to contact the Hernia Center of Ohio. Dr. Grischkan, the medical director, has achieved remarkable success even in cases where other surgeons were unwilling or unable to undertake a complex hernia repair. Thousands of patients from all over the United States as well as Europe, the Middle East, Mexico and South America have benefitted from the expertise of Dr. Grischkan's updated Canadian Shouldice repair (non-mesh) and for select cases, the Modified Shouldice repair (special mesh). Advantages in most cases include:
Sedation anesthesia-not general anesthesia
20-30 minute surgical procedure
Surgical repair performed only by Dr. Grischkan-not trainees
Resume all activities three days following the procedure
Safest method compared to other more invasive techniques
Dr. Grischkan has been specializing in hernia surgery for over twenty years. He is a recognized expert in the traditional non-mesh Shouldice method of hernia repair having attended medical school and surgery training in Canada.
He pioneered the Modified Shouldice repair, which incorporates a special mesh for those unique cases where the extent of tissue damage precludes a pure tissue reconstruction. Dr. Grischkan has repaired over 20,000 hernias to date and is regarded as one of the leading hernia specialists in this country. Hence the outstanding results delivered at the Hernia Center of Ohio.
Dr. Grischkan has lectured and trained surgeons in many university centers in the United States and Europe. He has also been a sought after expert in legal malpractice cases involving hernia surgery. In the early 1990's, he was a lead researcher for the development of a GoreTex mesh that was more tolerant to host tissue.
More recently he was honored to partner with the Shouldice Clinic in Canada to research and publish articles on chronic pain following removal of hernia mesh implanted by other surgeons.
The tremendous growth of the Hernia Center of Ohio under Dr. Grischkan has been due to the singular focus on the patient and delivering superior results in hernia surgery. For these reasons many doctors from all over the country have sought Dr. Grischkan for their own hernia repairs.