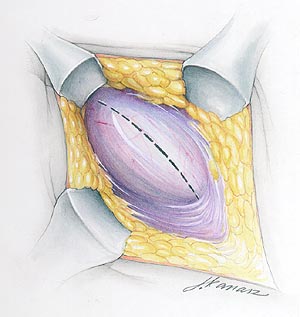 The Shouldice hernia repair technique was developed in 1950 by Dr. Earle Shouldice, a Canadian surgeon who revolutionized the repair of hernias. Dr. David Grischkan, The Hernia Center of Ohio's medical director, was trained in the Shouldice technique during his surgical training in Canada.
Using improvements in the original shouldice technique, Dr. Grischkan's modified Shouldice hernia repair technique utilizes two important technological advancements.
Lasers are used during the shouldice technique for a more precise dissection and to minimize pain. Additionally, a mesh screen is bonded to the repaired fascia.