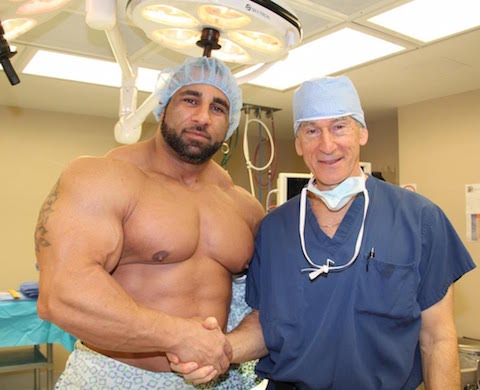 Like many elite athletes, Fouad Abiad, ranked in the top ten bodybuilders in the world, asked fellow competitors in the bodybuilding community for a referral for a hernia condition. The name of Dr. Grischkan at the Hernia Center of Ohio came highly recommended, in particular by Big Ramy from Kuwait, ranked in the top three bodybuilders in the world. Big Ramy had hernia surgery by Dr. Grischkan, flew back to Kuwait several days later and resumed his full workout regimen five days following the procedure.
Fouad underwent surgery by Dr. Grischkan and, like other elite athletes, went back to the gym four days following the repair. He has since successfully competed in a number of national and international competitions. Key among the benefits of Dr. Grischkan's specialized hernia surgery, according to Fouad, is the quick recovery and prompt return to the gym compared to more traditional techniques that take several weeks of recovery and a limited ability to workout in the gym.
According to Dr. Grischkan, key elements of his unique hernia repair include cosmetic incisions that can be hidden, tailoring the surgical procedure to maximize tensile strength of the repair and prompt return to athletic competition. This focus on achieving the finest results has brought athletes from all over the world and the United States to the Hernia Center of Ohio.