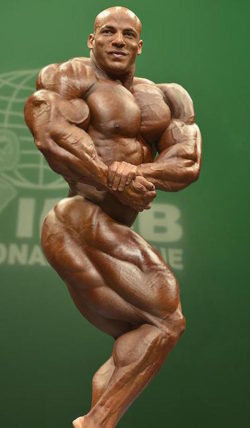 A world class bodybuilder, ranked in the top three in the world, Big Ramy has competed in Mr. Olympia and numerous other international competitions. Recently, he was hampered by a hernia condition that prevented him from effectively training and competing. Bench pressing around 500 pounds and doing leg presses in excess of 1,000 pounds were no longer routine for him.
He sought the expertise of a hernia specialist who understood the unique needs of the elite athlete. Having heard of Dr. Grischkan at the Hernia Center of Ohio from fellow competitors, he flew to Cleveland, Ohio from his home in Kuwait in the Middle East.
Big Ramy underwent successful surgery by Dr. Grischkan at the Hernia Center of Ohio and flew home to the Middle East on the third day following the surgery. Within days he was able to return to the gym under the guidance of Dr. Grischkan and was able to reach his peak workout routines in about ten days.
The unique combination of a special focus on small cosmetic incisions, individualizing the surgical technique to the needs of each patient and the ability to quickly return to athletic competition has brought Dr. Grischkan international acclaim for his work. Athletes from the amateur to the professional world as well as weekend warriors have sought to have their hernias repaired by the expert in hernia surgery- Dr. Grischkan.