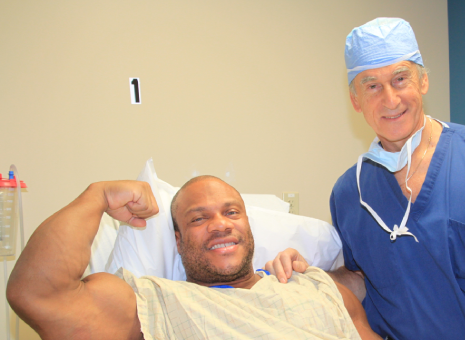 Thank you so much from the bottom of my heart for your amazing work because I now have a new lease on life.
Phillip Heath, a seven time Mr. Olympia, recently underwent hernia surgery by Dr. Grischkan at the Hernia Center of Ohio. The procedure was performed using sedation anesthesia, the preferred method, without the need for a general anesthetic. He was referred to Dr. Grischkan by former patients who had experienced a fast recovery and lasting results with their procedures.
Phillip is among three of the top ten bodybuilders in the world who have come to Dr. Grischkan for their hernia surgery. Phillip required none of the prescription pain pills following the procedure. In fact, only a few Advils were needed. Three days following the surgery, he was able to return to the gym and start working out. Over the span of a week, under the guidance of Dr. Grischkan, he increased the workouts to his pre-surgical levels.
Dr. Grischkan is an internationally recognized expert in hernia surgery who has performed hernia surgery on a number of elite athletes from diverse disciplines. A keen focus on the unique requirements of the elite athlete has garnered the Hernia Center of Ohio a reputation for excellence in hernia surgery.
Recognizing the need for cosmetic incisions in this special class of athletes, Dr. Grischkan developed techniques that can hide an incision and also place incisions in positions that blend in with the skin lines, rendering the incision near invisible. More importantly, repairing hernias in a manner that allows for a quick return to athletic competition at the highest levels, is the main goal of the unique surgical approach developed by Dr. Grischkan.